As we've reported in previous holiday cycles, the growing popularity of "Singles Day" shopping has become a bellwether for economic trends heading into end-of-year holidays.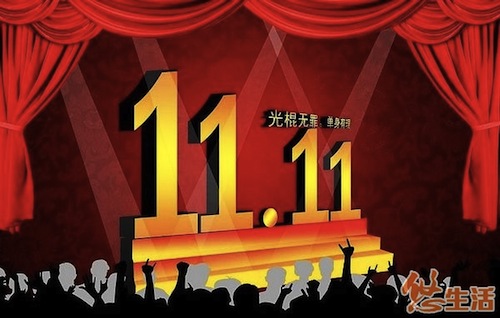 By way of background, CNBC recounts that "Singles' Day was first celebrated in the 1990s by young, single Chinese as an anti-Valentine's Day." Then, in 2009, global online retailer Alibaba "began using the made-up 'holiday' to promote discounts at retailers on its e-commerce platforms, as a means of boosting revenue in the traditionally quiet sales period before the Lunar New Year season.
"Increasingly, international brands have jumped on Alibaba's Singles' Day bandwagon, with more than 14,000 taking part in the 2016 sale…Orders, meanwhile, came from 207 countries and regions."
And while the holiday hasn't become an "official" road marker or kick off for American retailers, Fast Company thinks merchants might want to be open to change, noting there's already "some evidence to suggest that the holiday is migrating to the U.S. According to ShopRunner's data, the volume of online orders by Chinese Americans went up by 800% in the three days leading up to November 11, especially in cities like Chicago, New York, and Atlanta…This might be a wake-up call to U.S. retailers to tap into the existing enthusiasm for the holiday by offering promotions."
This year there was over $14 billion dollars in revenue generated, making it the world's largest online shopping event.
In addition to some of the environmental concerns coming from such a spike in consumption (particularly, as the Shanghai Daily reports, with the vast amount of unrecycled packing and shipping material).
Other concerns, though, are cropping up ahead of Black Friday and Cyber Monday — the two biggest shopping days in the U.S. An article on Pymnts.com says those are also "the biggest shopping days of the year and for cyber criminals, (and) that means open hunting season for both consumers and retailers alike. With denial of service attacks (DDoS), ransomware, account takeover and more, cybercriminals have a customized arsenal for the holidays,"
In an analysis of how much this year's Singles Day total was driven by purchases over mobile phones and other portable devices, the CNBC article quoted one analyst as saying "There are several factors contributing to the growth in mobile users. First of all, it's the access of cheaper mobile phones and secondly, the confidence in the third party payments (systems)."
All of which means, you'll want your increasingly mobile customers to retain their confidence in you, and your payment systems — which of course is our business here at AVPS!  Get in touch if you're in need of any holiday brush-ups or upgrades, in terms of purchasing options, whether in-store, or online, Singles Day — or any other day of the year!